Kolos No.6 - WHAT CAN YOU FIND IN THE BASIC CONFIGURATION?
Frame & fork No. 6
The foldable frame and the front fork are made of 6061 aluminium alloy. Frame size for 20" bikes. Suitable for both men and women with a body height of 150 – 190 cm. Derailleur and break cables fully covered with Bowden, pivots on V-brakes, disk brake adapter, recessed nuts for bottle wire basket, mudguard fittings. Magnetic attachment for the composite frame.
Hubs and gears
Force (aluminium) front and rear hub with quick release, 7-wheel Force, Shimano Tourney 7-speed gear, Shimano "shift grip", crank set with 52 teeth, CNC work piece (aluminium), axis with sealed bearings.
Wheels
20 " double aluminium rims, 36 holes with turned sides and rivets, 2 mm stainless steel spokes, Rubena P 406 tyres 47-406 (20x1.75x2) Rubena inner tubes with AV (with auto valve).
Brakes
Force front and rear V-brakes, Force brake levers (aluminium/plastic).
Other parts
Pedals – Humpert Ergotech, heavy-duty, foldable
Saddle - VELO Plush
Grips– Humpert Ergotech AKS 072- elastomer, ergonomic
Head set – Humpert Ergotech Cartridge
Handlebar stem – foldable, adjustable height (aluminium)

No.6 folded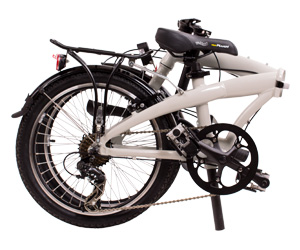 UNIVERSAL, PRACTICAL, INGENIOUS
Such are the Kolos No.6 folding bikes.
The Kolos No.6 folding bike is based on the now classic concept of folding bikes with 20" tyres (406). This type of bike is becoming more popular due to the fact that while maintaining a small size of 87x38x68 when folded, it is comfortable to handle and provides a good riding experience. The Kolos No.6 is recommended for cyclists, both men and women with a height of 150 to 190 cm, who want to use the bike in combination with public transport, a train or a car. A folding bike is suitable for owners of small flats, who struggle with space and where parking a normal size bike is complicated.
Choose your favourite colour, suitable installation and equipment from our wide-ranging offer in our configurator and create your Kolos according to your desire, needs and budget. We will build you a folding bike in your preferred colour and fitted with accessories that will fit you like a tailored suit.
In addition to the configuration options, the level of processing and the favourable weight (12kg), the Kolos No.6 folding bike excels in its practicality of the selected parts. For example, using the front hub with standard 100 mm spacing and fitting both of the wheels with standard 36 spokes makes the otherwise problematic service of a folding bike much easier while maximizing wheel strength.
When folding, then only with Kolos!